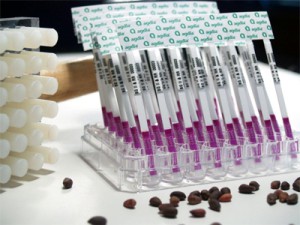 Applications-Determining Transgenic Traits
Our ELISA and ImmunoStrips tests help in the identification of a wide range of transgenic traits. For different applications they are used by different actors in the seed and grain industries as Seed Companies, Growers, Government Agencies, Seed Quality Assurance laboratories, Grain Handlers, Crop Improvement Agencies, Seed Brokers, 3rd Party Testing Facilities   and Universities/Researchers.
The main applications of our immunological detection methods are for:
· Adventitious Presence (AP)-Testing of a bulk grain sample or seed lot for unintended genetically modified traits
· Trait Confirmation -Test to verify if the intended trait is present in single seed/single leaf samples (Quality Assurance)
All of Agdia's tests are internally validated with select tests externally validated by trait providers (Monsanto, Dow, Syngenta & BayerCropScience) by using statistically-sound experiments using blind positive and negative samples
Our tests are tested for Robustness, Cross-reactivity experiment performed by involving multiple operators.
Multiplexed lateral flows are becoming the industry standard in seed and leaf testing for transgenic events and pathogen detection.
Applications-Determining Transgenic Traits
· Seed/leaf purity testing

· Quickly determine trait purity percentages
· Adventious Presence  screens

· Screen for the adventitious presence of unintended transgenic events
· Plant breeders

· Make in the field determinations of trait presence and determine segregation
· Alternate means of testing

· Quickly confirm ELISA results or second-party results.
Stacked trait combinations:
· Herculex™ with Liberty Link Mycogen/Pioneer Herculex™
· Bt-Cry1Ab+RR – Monsanto's YieldGard® with Roundup Ready®
· Bt-Cry1Ab+Bt-Cry3Bb1+RR – Monsanto's YieldGard® Plus with Roundup Ready®
Check the available products products and services